Immersed in PGT-Reclaimed Culture
By Maree Butterworth
A few solid days onsite with a client is a rare privilege to experience first-hand the inner-workings of the business to gain a strong understanding of what has driven its success. When I arrived at PGT-Reclaimed's factory, around 45 minutes from the bustling city of Ho Chi Minh in South Vietnam, it quickly became apparent the factory has become the heart and soul of the company founded by Australian man, Ian Burden, almost 20-years ago.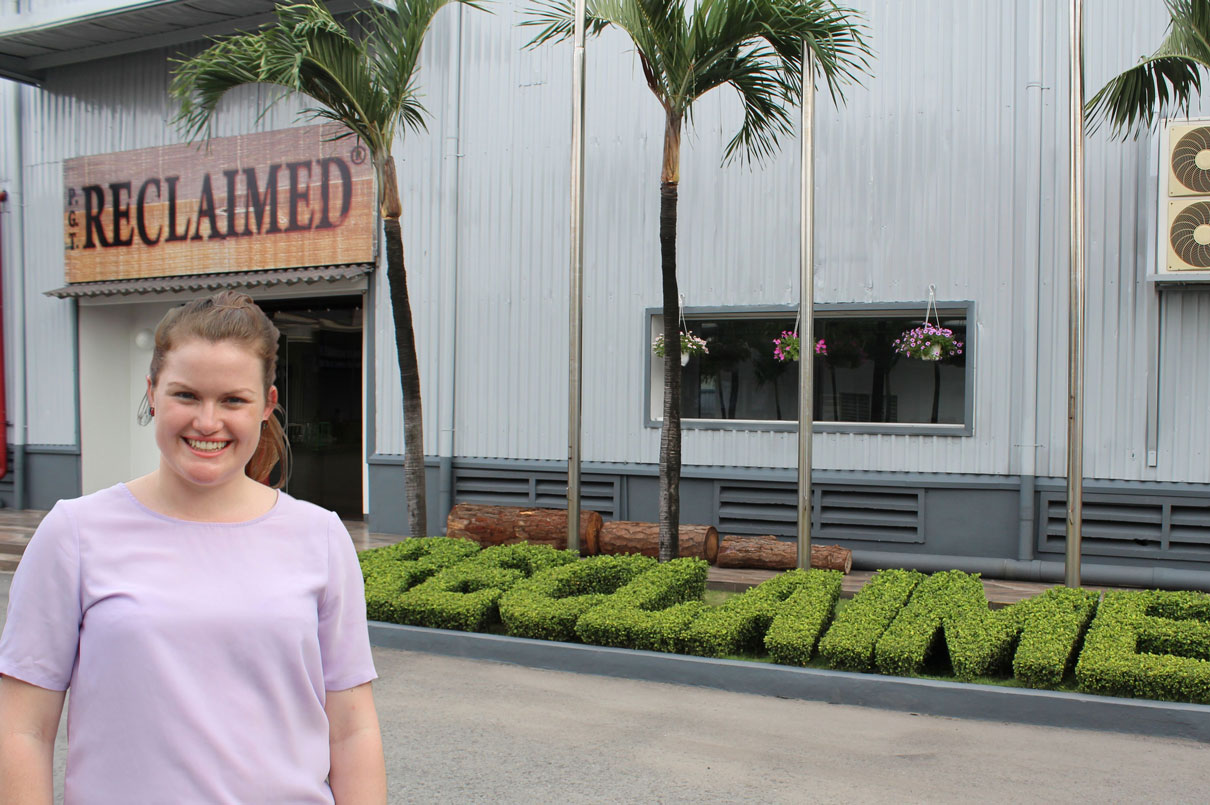 As I entered the reception area I was immediately greeted with an example of Vietnamese, or perhaps PGT-Reclaimed hospitality; smiling faces, with endless offers of cups of coffee (complete with an inscription of 'love' or 'wonderful' in the milk).
Venturing into the showroom, I saw the beautiful furniture on display made from 100 per cent reclaimed wood. A variety of collections, from bedding, to dining, living and office were showcased, featuring the continuously popular ranges developed in the company's early stages, such as the Cornwall, Bahama and Irish Coast, along with the latest releases.
Looking above the beautifully handmade furniture, I asked about the feature wall of wooden panels and discovered these had previously been the showroom's floor. It perfectly epitomised the sustainable ethos of the company, with the theme carried across the business, with doors, shutters, bathroom hand towel boxes, and all the trimmings made from reclaimed wood, inspiring employees to live and breathe the brand.
During my visit, I was fortunate to observe a meeting with major UK retailer, Next. Although Next is already selling PGT-Reclaimed furniture, this tour allowed the team to discover more about the company and look at new opportunities for both parties. It was also a chance for Next, as a matter of process, to see first-hand PGT-Reclaimed's product testing processes, which are undertaken to ensure structural integrity is maintained during shipping.

PHOTO: Drop test being conducted at the PGT-Reclaimed Factory.
To allow for the production of furniture for world-wide distribution, PGT-Reclaimed employs dedicated Quality Control and Quality Assurance teams to ensure no product leaves the factory if it does not 100% meet the company's meticulous standards.
It was interesting to see the drop test conducted on a dresser. After it was packaged, the dresser was raised off the ground before being dropped on its front, and then again on its side, to check if the furniture and packaging was adequate to meet UK regulations. It is a test performed to appease varying standards across the world as part of PGT-Reclaimed's transparent commitment to producing only the highest quality furniture.

This dedication to quality was further demonstrated when I toured the massive finishing factory, and was greeted happily by PGT-RECLAIMED's passionate workers. The company directly employees 700 people who work in the finishing factory and four warehouses nearby. It is a huge operation and each person understands their special role and takes pride in doing their part to create the company's world class furniture.
Ian and his wife and brand manager, Yung Burden, have created an incredible culture here.
There was so much to learn about PGT-Reclaimed and I thoroughly enjoyed the in-depth discussions with Ian and Yung about its history, but I also loved the encouragement to soak up Vietnam's rich culture and history, which would in turn, assist me in understanding how and why PGT-Reclaimed established its operations in this part of the world.